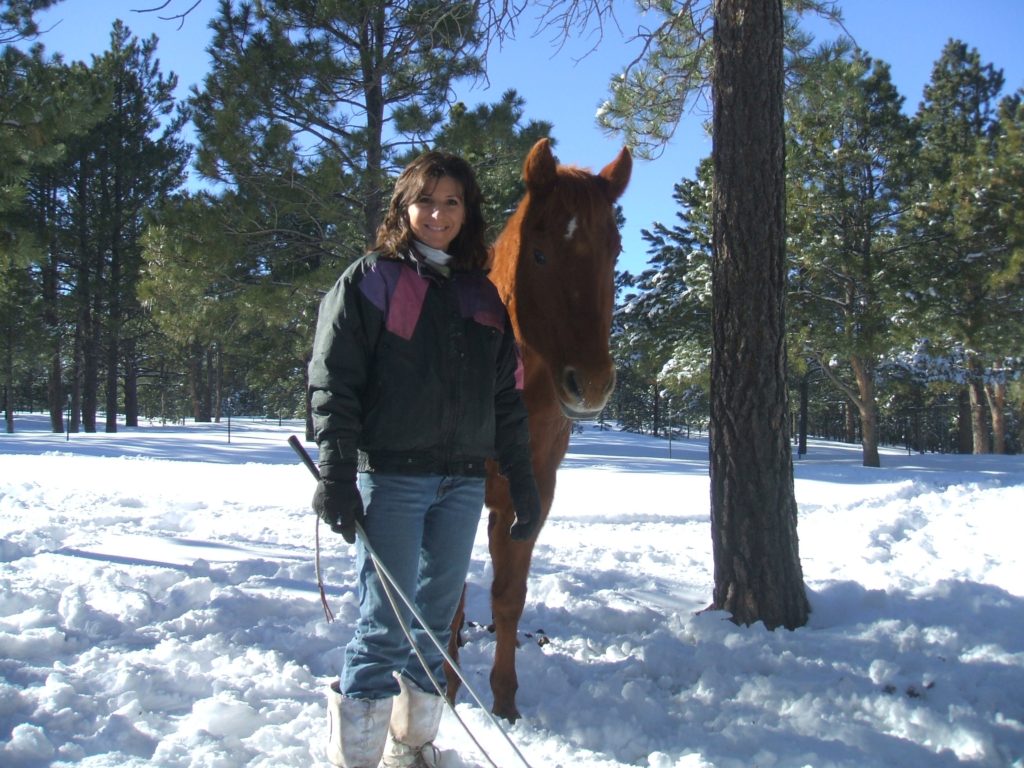 Front Range Equine Rescue Board of Directors
Front Range Equine Rescue's Board of Directors are dedicated to promoting the mission, vision, and program goals of the organization. Board members have a variety of backgrounds, each of which contributes to Front Range's needs – whether it is expertise in horse care and management, technology, education, events, administrative tasks, or fundraising endeavors. FRER's Board reflects the integrity and professionalism of Front Range Equine Rescue at all times. All Board members have prior history with the organization before sitting on the Board.
Board members are not compensated. There are 5 independent voting members of the Board as required (L. Dewey, B. Wagman, A. Ward, A. Herrel and S. Vincent).
Front Range's Board consists of 5 to 7 members. Terms are staggered to keep continuity and diversity in the Board. Two members can hold a five-year term; one member can hold a three year term. All other members hold one-year terms for which they can serve one additional year (two term limit). Past Board members are eligible for consideration after remaining off the Board for at least one full year.
The Board of Directors for 2024 is as follows:
Laurie Dewey's prior experience as both a trainer and small business owner helps her to understand many of the organizational and program issues faced by Front Range Equine Rescue. Before moving to Colorado, she operated a hunter/jumper training stable in California for many years. After moving to Colorado, she returned to the amateur ranks of show jumping and currently works in software development. Ms. Dewey ran a successful company which specialized in custom software applications for businesses as well. Ms. Dewey and her husband have fostered and adopted several of Front Range's horses. (Term expires December 2024)
Bruce Wagman is a partner with Schiff Hardin in San Francisco, with an almost exclusive animal law focus, involving litigation, education, legislative counseling, and consultation. Bruce's clients include numerous animal protection organizations and private individuals. He is a co-editor of the casebook Animal Law, and coauthor of A Worldview of Animal Law. He has been teaching Animal Law since 1996 and currently teaches at three Bay Area law schools. In the past five years, Bruce has focused much of his time on issues involving wild horses, horse abuse cases, and the slaughter of American horses for food. (Term expires December 2024)
S. Vincent Mr. Vincent and his wife are long-time supporters of horse rescue and other charitable causes. The Vincent's ran a feed store for many years in Colorado and have continued working in the animal feed or animal health industry. While operating a feed store, the Vincent's always assisted local groups with fundraising events. The Vincents have provided FRER with equine nutritional information for over two decades. Mr. Vincent has been a consultant for FRER's hay needs. (Term expires September 2024)
Adam Ward has a history of supporting charitable causes including horse rescue. His work with computerized satellite imagery and other technologies helps Front Range Equine Rescue with computer and database needs. He and his wife enjoy the company of two rescue cats. Adam pitches in at Front Range's facilities when needed and assisted with the relocation from CO to FL. (Term expires May 2024)
Amber Herrell has over 10 years' experience in the horse rescue industry and operates a rescue in Colorado at her family's farm. She has a proven history of rescue, rehab, training evaluation, and successful adoption services as well as networking with similar organizations to aid more at-risk horses. Ms. Herrell has assisted FRER with removing horses from the slaughter pipeline since 2007. (Term expires December 2024)
Click here for 2022 Board meeting minutes.
Hilary Wood is the President of Front Range Equine Rescue and serves as the current Board chairperson. As the founder of Front Range Equine Rescue, she combines her vision for the rescue and years of corporate work experience to successfully lead Front Range known as one of the leading horse rescues in the country. Hilary was also responsible for the creation of Front Range's special programs "Stop the Backyard Breeder", "Trails End", fire evacuation and horse ownership assistance. She heads up Front Range's national campaigns against horse slaughter and the Save the Wild Horses campaign as well as directing a national educational campaign via a direct mail program and overseeing legal actions and advocacy efforts. (Term expires December 2025)
Marion Nagle holds a Colorado State Elementary teaching license, Master of Arts degree, High School Physical Education and Dance degree. Her teaching experience ranges from pre-school through university with over 29 years' experience. Ms. Nagle began volunteering with Front Range in 1998 and has been a foster home to over 25 horses since 2003. Her curriculum "The Care and Keeping of Horses" is a model for stopping horse abuse through education. The curriculum is in use at Front Range summer camps which also provide and promote volunteerism in the community. Marion has also created educational curriculums for follow on youth camps, "Hanging Around Horses", "History and Horses", and "Horse Ownership 101" for families. (Term expires December 2025)
Equine Veterinary Services
Calhan Veterinary Clinic is a mixed-animal practice proudly serving the Calhan community and surrounding area. Dr. Robert DeAngelo, a graduate of Colorado State University, offers care in small and large animal medicine and surgery. Calhan Veterinary Clinic has partnered with Front Range Equine Rescue to offer discounted services for gelding and dental care as well as owner assistance programs during difficult economic times.
Range View Equine Associates provides a wide range of services including general medical services, complete mobile services, power dentistry and reproductive services. Dr. Randy Parker is the owner of Range View Equine Associates. He has practiced in the Colorado Springs area for over 20 years. He enjoys working on lameness, performing equine dentistry, treating major horse injuries, and doing surgery. Dr. Parker has teamed up with Front Range Equine Rescue to offer discounted dental and gelding services as well as assistance to horse owners during tough economic times.
Front Range Equine Rescue works with numerous other veterinary practices in Colorado and Florida to ensure its horses receive the most optimal care. Our rescue horses receive routine and emergency care as well as specialized services including advanced dentistry, chiropractic/acupuncture, equine massage, supplements, ortho-bionomy, and herbal remedies. Front Range has partnered with many veterinary clinics to assist during emergencies like fire evacuation as well as special programs for population control (gelding, humane euthanasia when needed) and discounted dental services.
Horse Rescue Staff
Hilary Wood is the President and Founder of Front Range Equine Rescue and works as the Director of Programs and Operations. She serves as the visionary and driving force behind Front Range Equine Rescue and brings over 25 years of corporate experience to her position. She started Front Range in 1997 while working full-time with a part-time riding instructor job as well. For over 9 years, she juggled her work and the growing demands of Front Range Equine Rescue. In late 2005, the Board voted to hire her as a full-time salaried employee. Her past employment experience included working in large corporations, small private companies, non-profit organizations, and self-employment. Ms. Wood's skills include technical editing, office management, grant writing, media relations, supervision of staff, human resources experience, materials production, basic accounting, public relations, records management, working with executive level staff, and managing for-profit and nonprofit businesses.
Volunteers / Visitors
Volunteers: are utilized on an as-needed basis, primarily May to Oct in Colorado to assist with stall/pen/corral cleanings, grooming, and at events. There are no volunteer opportunities at the FL farm at this time. Sorry no "last minute" requests.
Visitors: are welcome by previously arranged appointment only and weather dependent in certain months. Sorry no "last minute" requests.
Due to liability, safety, the nature of horse rescue work, and insurance requirements, any volunteer or visitor must be scheduled in advance; no drop-ins allowed.
Click here for ways you can help end the abuse and neglect of horses.
For more information, please contact us.